More Food for a Sultan
Over the weekend we made Turkish food. If I could only choose a handful of cuisines to make for the rest of my life based on what I know now, Turkish cuisine would be one of the five. The Turkish recipes I am made are from the book
Sultan's Kitchen.
It is really excellent because of all of the superb pictures. The recipes are easy and well explained with ingredients that you can mostly find at the store. If you have any interest in making and eating delicious food, I highly recommend you get this book.
I like to make my own homemade breads, so I made homemade pita bread.
Pita Bread
This recipe makes a huge amount of pita breads, so you might want to cut it in half. I have simplified the recipe from Sultan's Kitchen. I hope he doesn't get pissed at me. I bought the book and I encourage you to as well.
1 package yeast
1 3/4 cup warm water
1 t sugar
4 cups flour
2 t salt
Combine yeast and water and sugar and let the yeast start bubbling to make sure it is active. Add the flour and salt and beat with your mixer for 10 minutes or so. Let rise until double in size.
glaze:
3 egg yolks
1/4 cup milk
1 1/2 T sesame seeds
1 T black caraway seeds
Mix the eggs and the milk together to make the glaze. Take the dough and divide it and make it into balls. Roll out into 8 inch round pieces, about 1/4 to 1/2 inch thick. Glaze each piece of dough with the glaze and sprinkle with the seeds. Hopefully you have preheated your oven to 450 and you have a baking stone in there heating up nice. Drop the dough rounds one at a time onto the stone. The pitas will be lightly golden on top when they are done.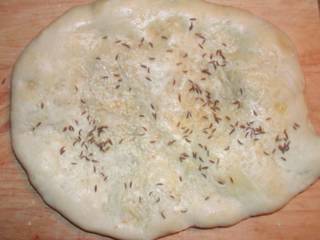 Of course whenever you serve pita bread you should also serve hummus.