Chicago Trip Part 2
This is the corner of Michigan and Oak. It is either the start or the end of the miracle mile, depending on how you look at it.
This is the apartment building that my cousin lives in up in Lincoln Park. Its a pretty swanky place.
Back to the Frontera Grill. It has an excellent bar so if you go there and there is a wait be sure to visit the bar. Even if you don't drink you can get a bowl of their spiced peanuts for free.
If you do drink, you simply have to try the standard house margarita.
I got the recipe for those margaritas from his cookbook
Authentic Mexican.
It is an outstanding cookbook and a great place to start if you want to learn to cook Mexican food.
Frontera's Gold Margaritas
1 2/3 c. Cuervo Especial Gold tequila
¼ c. plus 1 tsp. Gran Torres orange liqueur or ¼ c. Gran Marnier
½ c. plus 1 T fresh lime juice (about 2 fresh limes)
finely grated zest of 1 ½ limes (about 1 tsp.)
5 T sugar
lime wedges
coarse salt
Steeping the mixture:
Mix the tequila, orange liqueur, lime juice, lime zest, sugar and 1 c. water in a glass or plastic pitcher until the sugar dissolves. Cover and refrigerate at least 2 hours but no more than 24 hours. Strain into another pitcher.
Finishing:
Rub the rims of glasses with lime wedges and apply coarse salt. Serve straight up or on the rocks.
Another thing you will get for free at the bar is a little dish of 2 salsas. One is green and the other is redish brown. They are both delicious and go well with just about all of the dishes you are likely to get at Frontera. They might also give you some chips.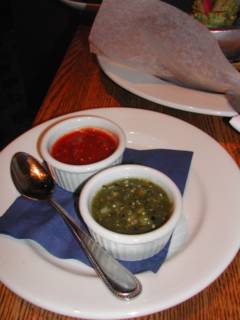 When we got into the seating area the first thing I did was order us some appetizers. I was going to do it up RIGHT. It had been 4 years since I last ate there and I wasn't going to miss the opportunity. The first thing we got was guacamole. He has the recipe in pretty much all of his cookbooks but I won't post it here. I like my wife's recipe a little better, and you can find it elsewhere on this blog.
The next thing we got was a lamb tamale. A LAMB TAMALE!! Wow. It was the most tasty tamale I have ever eaten, and I will definately add lamb to my tamale filling arsenal. It was covered with a very nice mole. It was the specialty appetizer of the night.
For the entre, they offer about 10 different dishes and the menu changes every couple weeks. To be honest I can't quite remember what the special of the house was that particular night, but it sounded pretty tasty. It also sounded similar to what my cousin was ordering so I didn't get the special. I got a roasted chicken with charro beans and a salad.
The chicken was marinated in some craziness that I can't remember and grilled. I have a recipe for charro beans somewhere on this blog, and I like my recipe just as well. Mr. Bayless includes his recipe in many of his cookbooks. The salad was tasty. It had some sort of a crazy balsamic vinegrette on it and crumbled Mexican Cheese. His other big thing is to grill some green onions and put them on the plate. Super tasty to say the least.
My cousin got the grilled mahi mahi with some sort of crazy sauce and rice. It too was delicious. I don't eat fish unless I caught it and fix it right on the shore or if I am in a city known for fish. Let me tell you, this mahi mahi was heavenly. I liked how he molded his rice in a pyramid.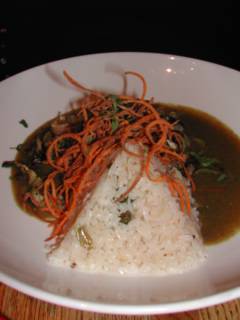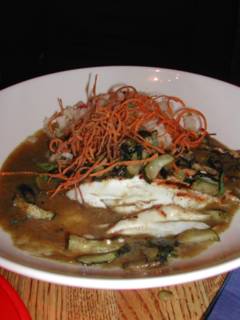 Another great thing about Frontera Grill is that they serve the best ever tortillas with every meal. When I was last in Chicago there was one lady who made the tortillas. She was like 70 years old and she had been making tortillas since she was 6 years old. There was a story about her in the Chicago Tribune. I am not sure if she still makes all of them by hand but they are the same as they ever were - Delicious. You can make tacos out of pretty much anything and I took the liberty to sample my cousin's dish and make a fish taco.
After we ate at Frontera we went to Michigan Ave to see the lights. Here is the Water Tower at night.
There are a lot of things I would like to have eaten in Chicago, but I ran out of time. The final thing I ate was in the airport. I got a Chicago Style Hot Dog.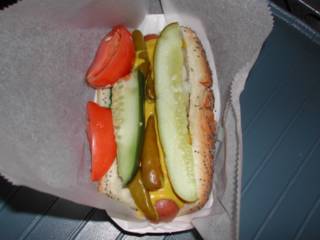 To make one of these you need a sesame seed bun, a
Vienna Beef
hot dog, 2 tomato wedges, sport peppers(hot peppers), diced onions, a pickle slice, a cucumber slice, green relish, celery salt, and mustard. I don't think I am forgeting anything.