Pane Siciliano
Tonight we are having company over. I am making my recipe for chicken parmesan. I am also going to use up some of the homemade pasta I made last week and some marinara. The final thing we are having is Sicilian bread or Pane Siciliano. I got the recipe from the only book you will ever need on bread -
The Bread Baker's Apprentice.
Pane Siciliano
2 nights before you are planning to make the bread, you have to make a pre-ferment dough. To do this, combine 10 ounces bread flour (about 2 cups) with 3/4 t salt, 1/2 package instant yeast and about 3/4 cups water. Place in mixer and mix until well combined. Let rise for about 1 hour or until almost double in size. Place in the refrigerator overnight.
The next day remove the pre-ferment from the fridge and let warm up for an hour or so. Then to the pre-ferment add:
8 ounces (1 3/4 cups) bread flour
8 ounces (1 3/4 cups) semolina pasta flour
1 t salt
1/2 package instant yeast
2 T olive oil
1 T honey
1 1/4 cups lukewarm water
Mix in the mixer using the dough hook for about 10 minutes. Cover and let rise until double in size. Being careful not to squash the dough and let all the bubbles out, divide it into 3 equal portions. Stretch each portion like you are going to form a baguette. Then roll up the baguette into an S shape like shown below.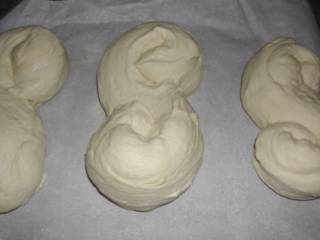 Place a piece of parchment paper on an upside down cookie sheet. Spray the paper with spray oil and dust with semolina flour. Place each dough piece on the piece of paper. Mist each piece of dough with water and then sprinkle with sesame seeds. Then mist the dough pieces with spray oil and cover with plastic wrap. Place in the fridge overnight. The next day check on the dough pieces. If they are not double in size you will need to let them rise a little before baking.
To bake, preheat the oven to 500 with your baking stone on the middle rack spot. On the top rack spot have an oven proof metal pan heating as well. A cast iron skillet works well. Let the oven preheat for about a half hour. When it is ready slide the loaves, paper and all, onto the baking stone. Pour 1 cup of water into the steam pan (the one on the top rack). Close the door and let loaves bake 30 seconds. Then spray down the sides and floor of the oven with a little bit of water and close the door. Repeat that twice at 30 second intervals. Then lower the temperature to 450 and bake for 15 minutes. At the 15 minute mark rotate the loaves 180 degrees. Bake 10 minutes more and then check. You want the loaves to be nicely browned with an internal temperature between 200 and 205 degrees. Let cool on a rack until room temperature.